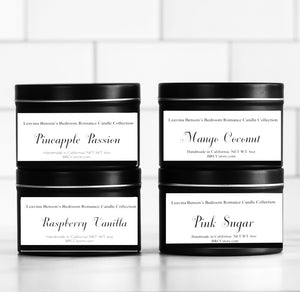 Summer collection 6 oz candles/ pack of 4 

1. Mango coconut
This  lush, luxurious fruit medley fragrance  is a modern tropical fusion of fresh mango and creamy coconut milk.

Mango, coconut, orange

2. Pineapple passion
Sweet and tart, Passionfruit Pineapple is a vibrant explosion!

Pineapple , passion fruit, peach , coconut
3. Vanilla raspberry
a smooth, fruity fragrance oil bursting with all the goodness of ripe berries and creamy vanilla.

raspberry, blackberry, vanilla

4. Pink Sugar 
Pink Sugar Crystals is a sweetly
sophisticated take on a cotton candy
fragrance.
Strawberry, raspberry, vanilla, sugar
- 8oz tin
- Soy Wax
- High Quality Fragrance Oils
- Phthalate Free
- Black tin
- Lead Free Wicks
- 6oz Net WT
- 30+ hour burn
- Two Wicks
- 2" Tall , 3.25" Wide