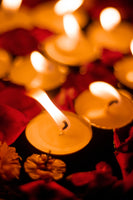 Welcome to Leavina Benson's Bedroom Romance Candle Collection

Enjoy beautiful, romantic, aphrodisiac, soy wax candle fragrances that will ignite a fire within you and remind you of pure, sensual romance. This exclusive Bedroom Collection has everything from feminine/masculine, floral/sweet to sultry and spice. Exotic labels that are paired with amazing fragrances; Promising a fulfilling, exhilarating, experience. Quality handmade candles, wax melts and room sprays. Romance with scents!
Why Soy Wax?
- cleaner burn /no toxins/ pollutants 
- biodegradable and water soluble
- soy wax is made from soybeans, a natural, renewable source 
- soy wax burns with zero petro- carbon soot unlike paraffin
- last 30-50% longer than traditional paraffin wax candles. 


Make the healthier choice! /collections/frontpage/collections/
Fall Collection ( to view the entire store, click on Bedroom Romance Collection
Bedroom Romance Candle Care Instructions

- The first burn is very important. It's recommended burning your candle for at least 2-3 hours the first time you light it. This helps accomplish a full melt pool across your candle and avoids tunneling. This will also ensure a full scent throw.
- Never burn your candle for more than 4 hours at a time. If you burn your candle for longer than 4 hours, please be sure after the 4 hour mark, to extinguish your flame, allow the wax to harden for two hours, trim wick, and then relight. (Simply trim wick by pinching the burnt pieces off the wick and discard.)
- it's safe to always trim your wick to ¼ inch each time before you light your candle. This helps keep the candle burning at its best and last longer.
- Never leave a burning candle unattended. Burn your candle in a safe place that's away from children and animals.
- Never touch glass after the candle is lit (hot!!)
- When the wax has reached ½ inch, it's time to discard. However, Feel free to reuse your jar if you desire.
- Make sure to reference the warning label at the bottom of your candle at anytime for safety reminders
Wax Melts 
To prevent fire or injury:
-remove packaging before use
- use only in tea light warmers or UL listed electric warmers approved for wax melts. 
- do not leave melter unattended while in use 
- do not add water/ do not melt on stove or in non approved appliances
- discontinue use when dish contains less than 1/2" of wax 
note: Failure to follow safety/ care tips could result in fire, injury, or smoke damage 
* Please Note:
All of these items are handmade so because of that, there may be minor imperfections such as: slightly off centered labels, tiny markings outside the jars, minor wax discoloration. None of these will impact the amazing quality of the Candles/Wax Melts 

Enjoy!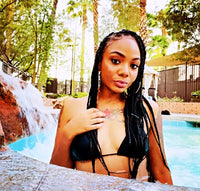 Owner
LEAVINA BENSON
Founder/ Creator of Bedroom Romance Candle Collection.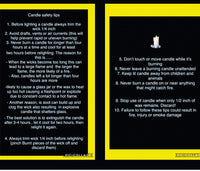 Always remember Candle Safety Tips that are recommended by the National Candle Association